Is your "Broadband" more like dangling from a narrow thread?
CLOSED Miscellaneous Article
Author: Hub Administrator
Published: Tuesday, 23rd August 2011
Update 13 Jan
West Sussex County Council have just launched a survey aimed at helping them prioritise the investments in broadband improvements across the county. Your responses to this Speak Out have been very helpful in raising the profile of this area but now it is important to respond to the WSCC survey to make sure our local telephone exchanges are upgraded as soon as possible. There is real money out there for the upgrades so let's try to make sure it comes our way! It is a very simple and quick survey - just follow the link below.
If you know someone who needs to complete a printed form perhaps you could print one for them.
-------------------------
Update 28 Dec
I have had another look at the survey data below. It is clear that in some areas there are anomalies where speeds are lower than would be expected based on distance to the exchange. For example, RH19 4QJ (Hilltop Rd, WH I believe) has 3 readings much lower than surrounding addresses and some of the outlying areas appear worse than in theory they should be. I have recently found some useful information on Broadband speeds and can recommend the adslchecker at www.kitz.co.uk to get an estimate of what you might expect.
You can also go here armed with some information you can find from your broadband router or modem.
Even easier - just read off the speed on this graph: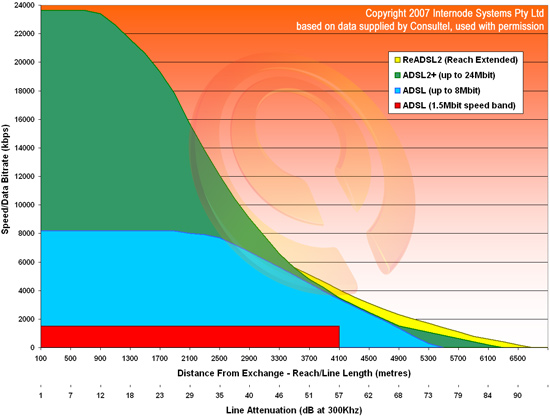 on the blue line against the distance by road to the exchange - the Attenuation numbers here should agree with what your router indicates.
If what you experience is significantly and consistently worse then some investigation would be worthwhile - either of your in-house phone wiring or with BT regarding the cabling to your house. I have recently experienced a dramatic improvement in broadband speed after BT made some changes somewhere outside the house.
-------------------------
Whilst some areas of our parish (those close to Sharpthorne BT exchange) enjoy Internet connections at around 6 megabits/second others can often receive less than 1 megabit (that is, very slow!). The best areas in the UK are now in the 30+ megabit speeds so even in our good areas businesses, students and households are at a disadvantage now that more information and services are delivered through the Internet.
West Sussex County Council have received central government funding, which they hope to supplement through local enterprises, to alleviate these national discrepancies in areas such as ours.
I would just like to say...

In response...